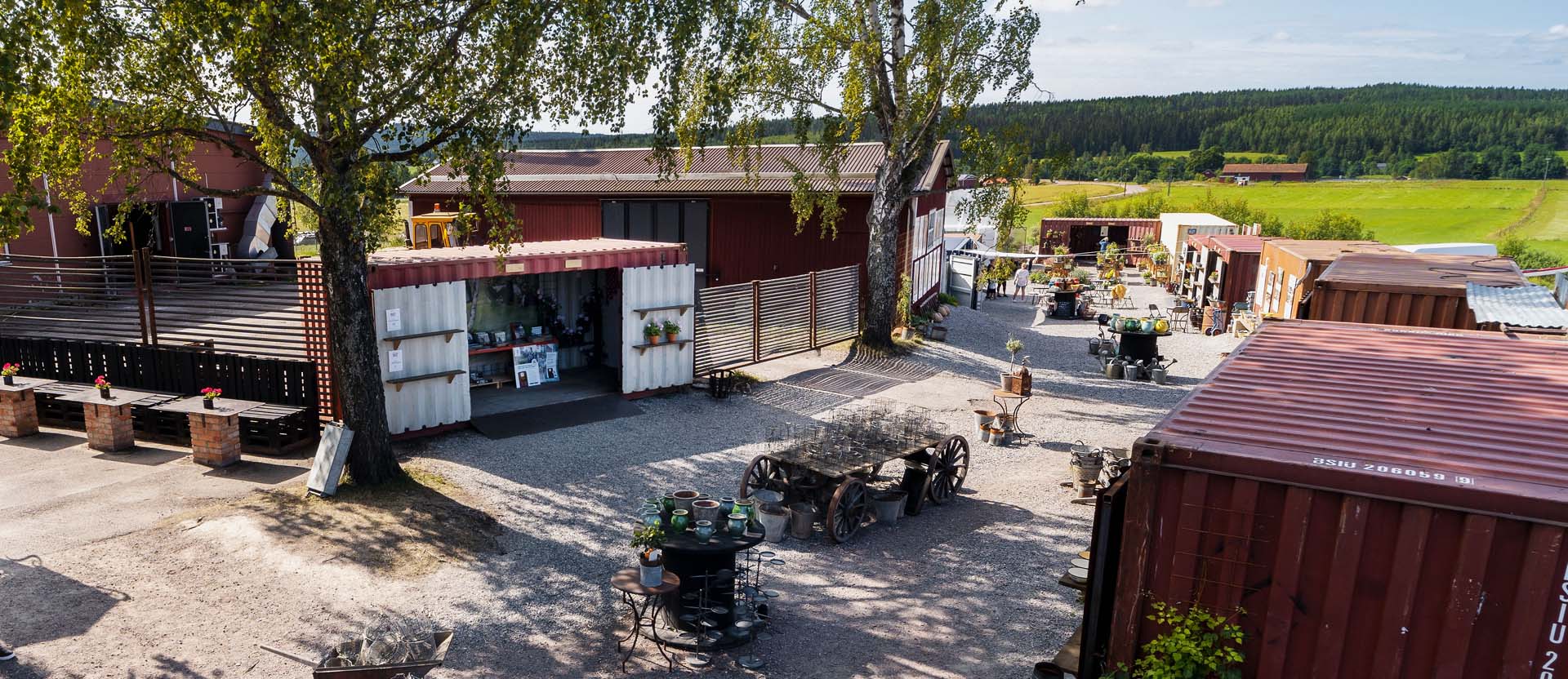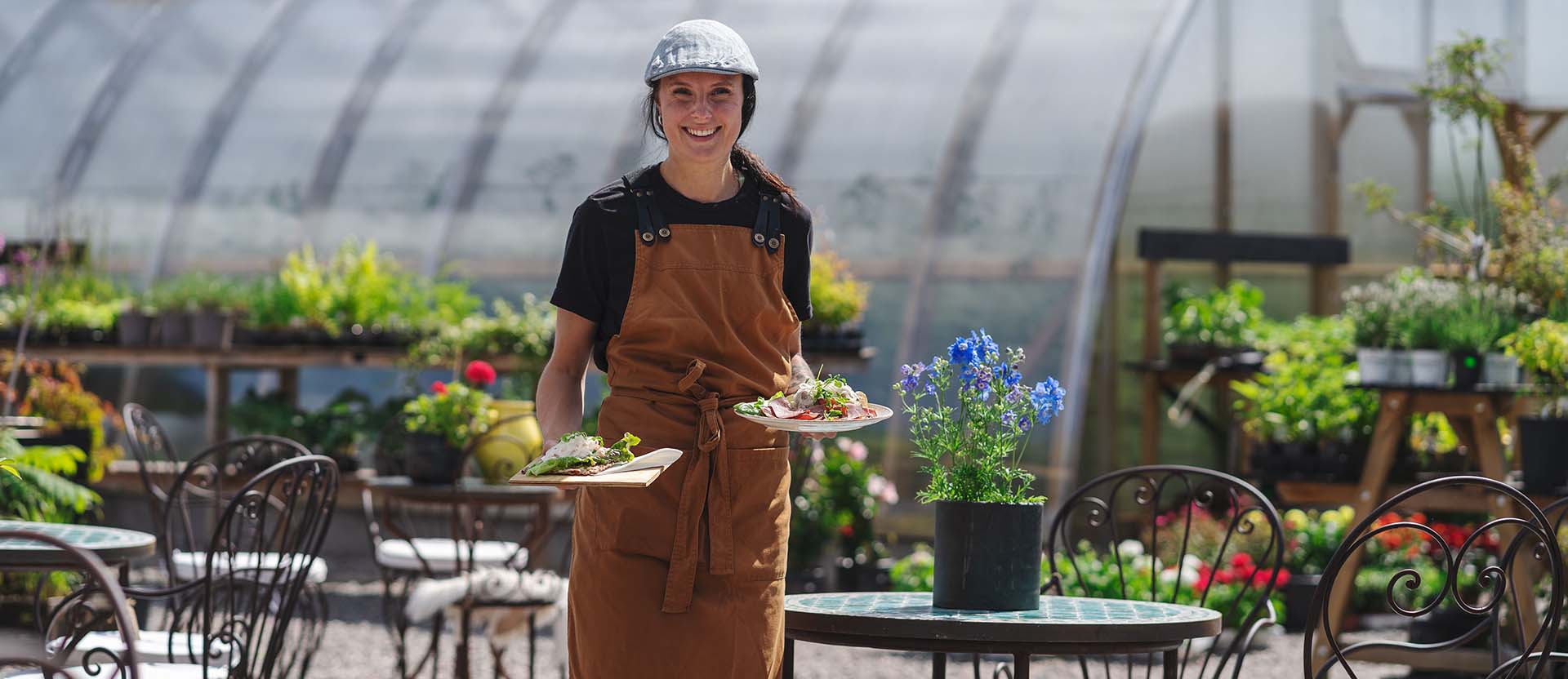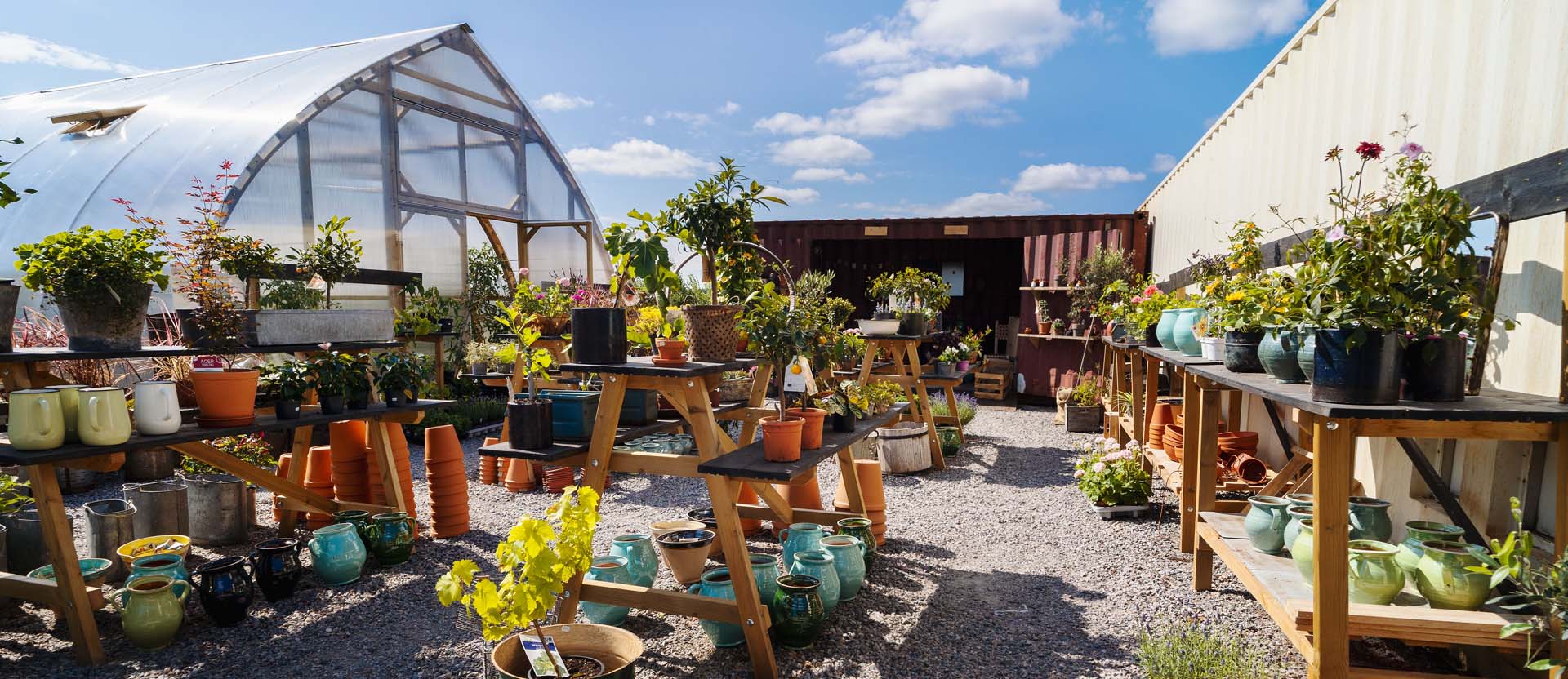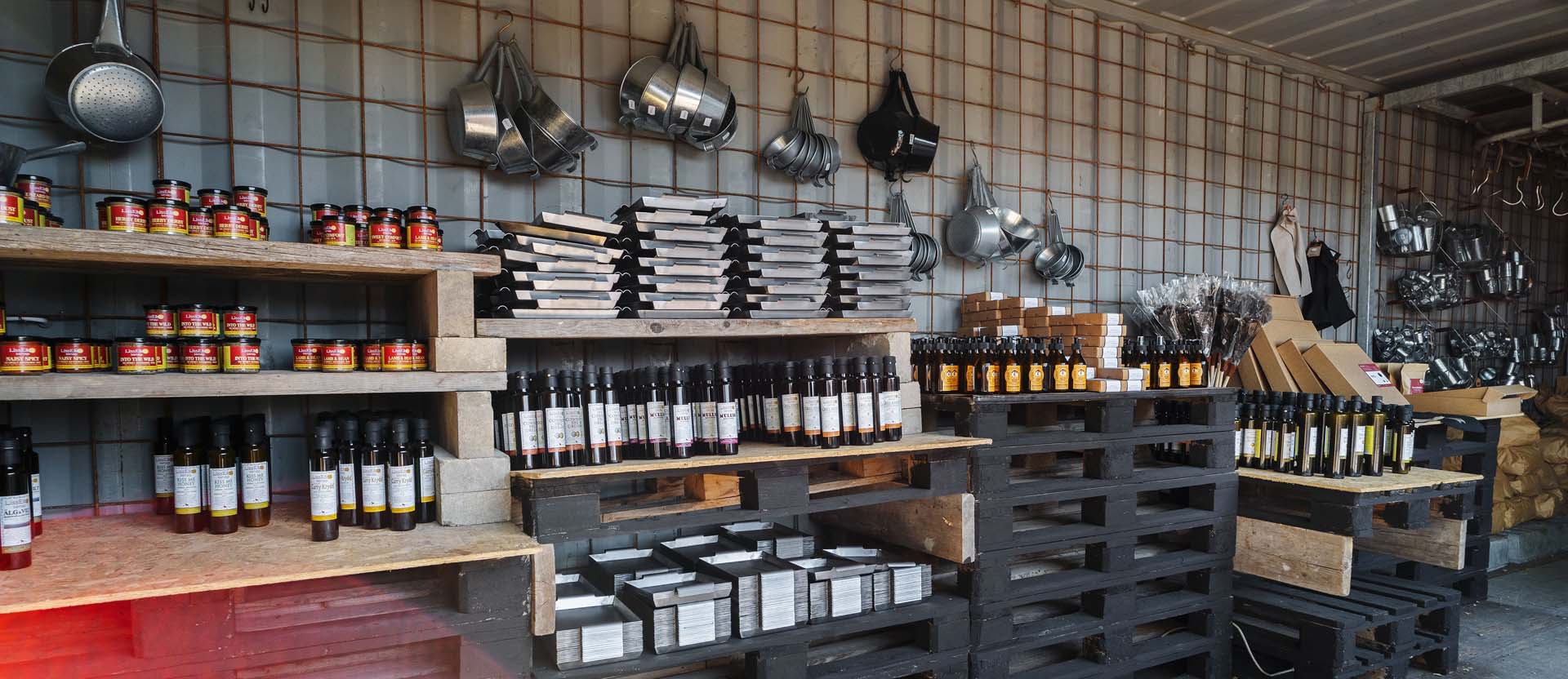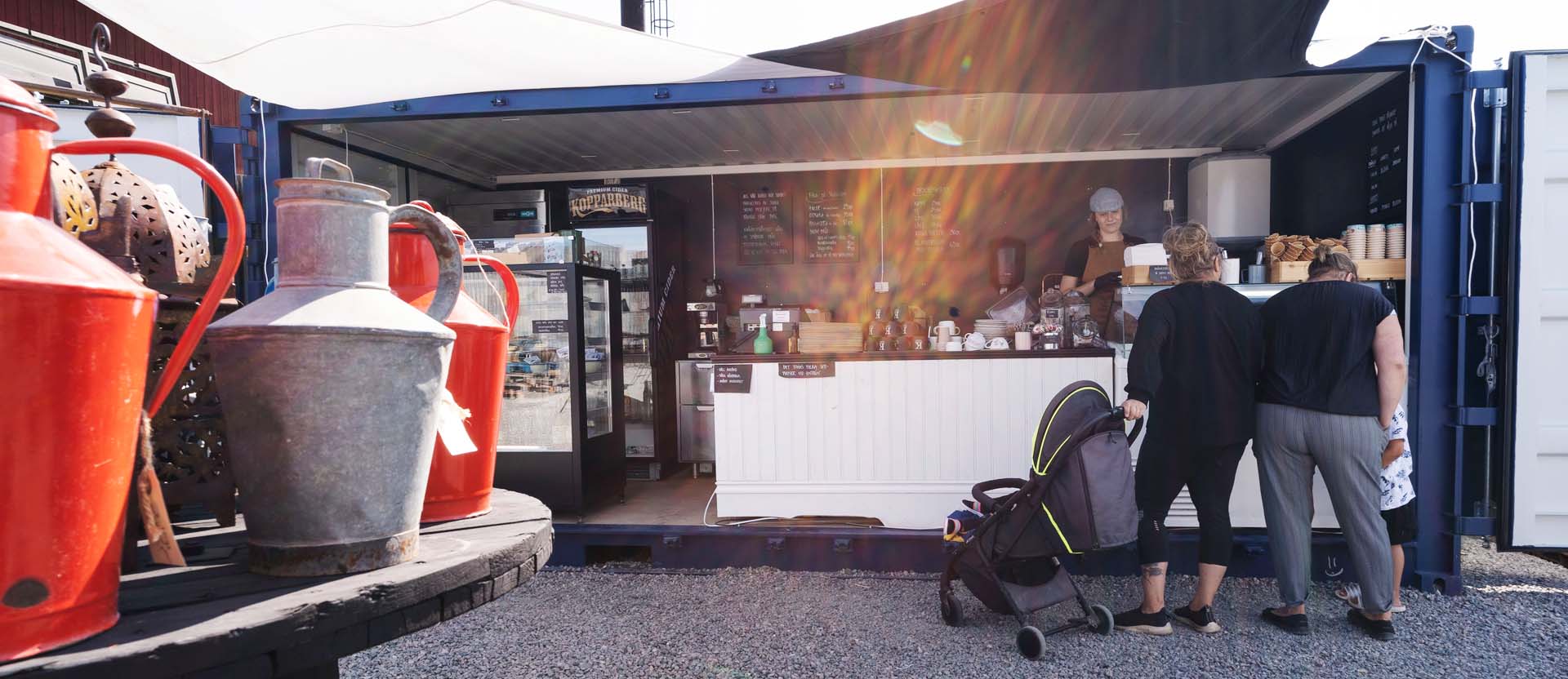 THE COURTYARD IN ITS VERY FIRST SUMMER
CONTAINERS, CAFÉ
AND GREENHOUSE
In summer, we open up our courtyard that is lined with old shipping containers. After traversing the seven seas, they wound up here in Stora Skedvi where we've filled them with all sorts of delights. Here, you can buy all sorts of knick-knacks and trinkets for home and garden. Cultural offerings are also on show now and then, and vary from year to year. Our very first summer season in 2021 saw a pop-up shop from Carl Larsson Farm and a photo exhibition. This is also where we have our café where you can enjoy a traditional Swedish fika the Skäve way. At the end of the courtyard is the crown jewel of the entire operation, the greenhouse. It's blooming marvellous!
Out here, you can really enjoy the sensation of being in more southerly climes. Our courtyard area offers space to hang and chill. Come and take a gander at what we have to offer, with shopping, taste sensations and above all fun.
Greenhouse
In recent years, the demand - and our longing - for all things green has been growing and growing. At the same time, a vision has been identified. A vision of being able to do something with the waste heat from the wood-fired ovens in our knäckebröd bakery. Combining the two seems only natural - and now we're well on our way with our own greenhouse.
Here, you'll find tomatoes, cucumbers and flowers growing and sprouting so much you can almost hear them during the warmer months. These can of course also be purchased together with other tasty little treats! In our restaurants, anything that's edible ends up on plates, with the flowers adorning the tables. Jenny, who runs the greenhouse, thinks that following the changing of the seasons is the right philosophy when it comes to planting, which is also very much in tune with our overall concept. Come and get your fill of beautiful greenery and watch as our range grows and grows!
SUMMER CAFÉ
Our café serves up hearty knäckebröd sandwiches, coffee and the delicious ice cream created in our Stora Skedvi Dairy. Why not top off your favourite flavour with our special knäckebröd sprinkles? Our range varies and sometimes also includes other treats from the Stora Skedvi Dairy here in our factory or from the other bakery in town, Kanel & Kummin (varies according to opening times).
Our café is housed across several of our old shipping containers and you can choose to sit outdoors or under cover.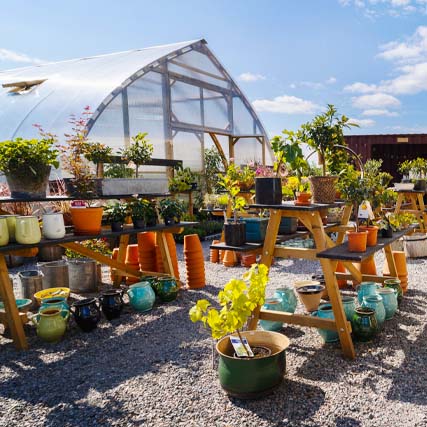 Jenny Kangas, who runs our greenhouse, is already looking forward to next year when our range will be even bigger, with more flowers, more plants and more veggies.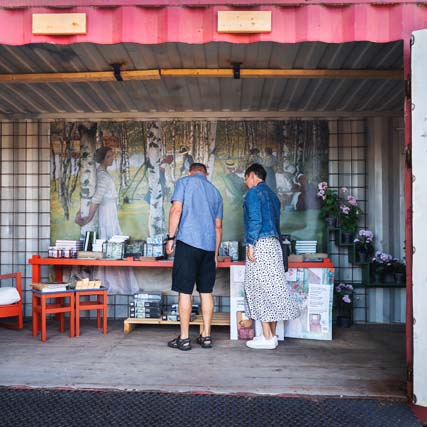 Carl Larsson Farm held its pop-up sale in one of our containers where visitors had the opportunity to buy puzzles, books, napkins and other tasty little treats.