KNÄCKEBRÖD - A STAPLE FOR EVERY DAY AND FOR CELEBRATIONS
Knäckebröd has gone from once being considered a poor man's food to these days being served as an everyday item and for parties and celebrations. Today, our knäckebröd is served everywhere from castles to wood cabins, and we are proud to now be Holders of a Royal Warrant of the Swedish Court for hand-baked knäckebröd.
Our knäckebröd
Our knäckebröd is currently available in four varieties: The Original, Extra Crispy, Sourdough and Corn, and a seasonal Winter Wort edition.
In terms of the work itself, the knäckebröd in the yellow and blue packages are essentially the same type. It's the fire, the bakers and a number of other factors that impact the end result, determining whether you achieve a lighter or a darker bake. When it comes to hand-baked craft, it will be what it will be. Some prefer the slightly milder tones and crispiness of the light breads. Others prefer a darker bake that is sightly more brittle and gives a more intense taste of the bread's roasted nuances. Our bread is sorted, with the lighter loaves being packed into our yellow packs as The Original. The darker loaves are packed into our blue packs as Extra Crispy.
We dare say it's love at first taste with our breads!
Ingredients
We use Swedish ingredients in our products, all of which are made from just a few ingredients. The whole grain rye and other cereals come from Lantmännen and the yeast is from Jästbolaget. Both are Swedish companies with long traditions within their respective areas of the food production industry. Even our salt is supplied by Jästbolaget and is produced in Denmark. The companies we work with are food safety certified, of course.
Fresh Dala water is also added, from a glacial stream just a few kilometres from the bakery. Every year we perform several tests for approval by the food production industry.
For us, it's a prerequisite that our flour is ground in such a way that it works with our way of producing food. Our serving machine, the one that makes cakes out of the dough, is a really demanding contraption. We've tried several different kinds of flour from several different producers and mills, and none of them worked. This led to a long break and a stop to our production, and our crispbread ended up being worse in quality.
Our dream and our goal is to be able to bake rye that has been grown and ground in the local area. We're not there yet, but we're definitely working towards doing it that way!
Skedvi Bröd Originalt
Our rye knäckebröd are baked according to a recipe that has stood the test of time using just four simple ingredients: rye flour, water, yeast and salt. This produces a thin, light and crispy knäckebröd, with a rare fullness and delicate roasted nuances.

NUTRITION INFORMATION
Skedvi Bröd Originalet, (PDF)
BUY ONLINE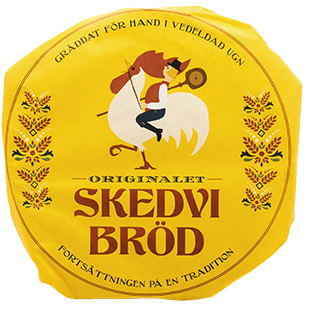 Skedvi Bröd EXTRA CRISPY
Those loaves that have seen a little more heat in the ovens have a darker bake. This brings out the roasted nuances even more intensely and often makes the bread more brittle. Meaning a touch more of the taste that so many love. These loaves are sorted out to become our "Extra Crispy" knäckebröd. The dough and bake are essentially the same as they are for The Original.
NUTRITION INFORMATION
Skedvi Bröd Extragräddat, (PDF)
BUY ONLINE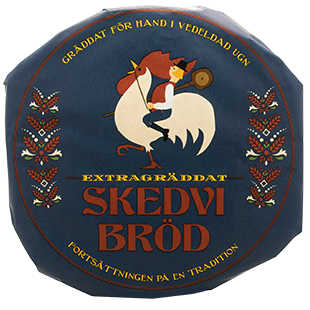 SOURDOUGH AND CORN
Our Sourdough and Corn knäckebröd is a more brittle bread with a characteristic sourness and wonderfully exquisite taste. The half-moon packaging is much-loved and has become a knäckebröd favourite for adding to its predecessors The Original and Extra Crispy.
NUTRITION INFORMATION
Skedvi Bröd Surdeg & korn, (PDF)
BUY ONLINE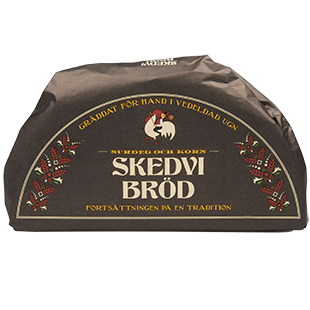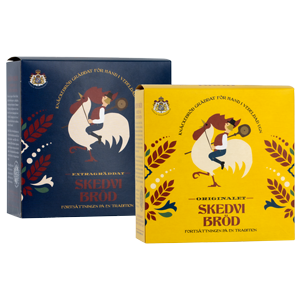 BROKEN BREAD
Loaves that don't make the grade for being packaged are broken down into little pieces and sold in boxes as Broken Bread. Maybe a few pieces have broken off, become burnt or doubled in weight. These pieces are removed and placed in a "liquor bread" box. The rest of the loaf is broken down into smaller pieces and sold in boxes as Broken Bread.
We think it's important to waste as little as possible!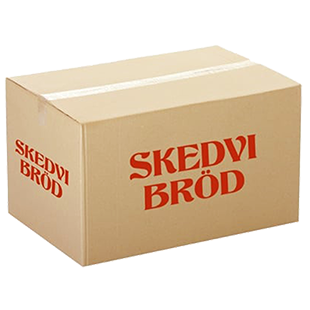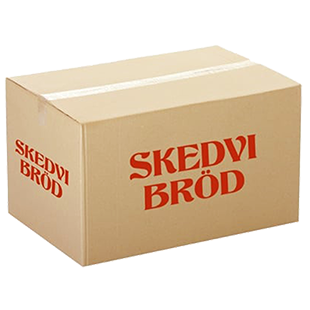 BROKEN BREAD 2.2 KG SOURDOUGH & CORN
This is where those of you who like a little sourness in your bread can get your fill. Sourdough & Corn in a 2.2 kg box, in small pieces perfect for knäckebröd sandwiches.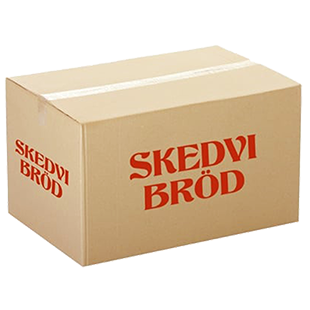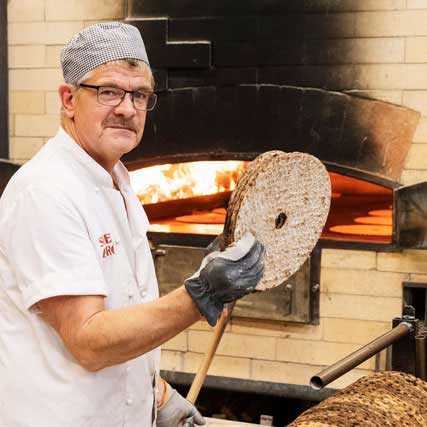 Baker Leif and his colleagues handle the bread with a delicate touch that only years in the baking profession can give you.
THE BEGINNING OF A NEW TRADITION!
This aquavit is produced carefully and cleverly using the parts of the knäckebröd the bakery doesn't use. All so that not a single crumb of knäckebröd goes to waste.
THE AQUAVIT IS AVAILABLE IN TWO VARIETIES AND CAN BE ORDERED FROM SYSTEMBOLAGET: